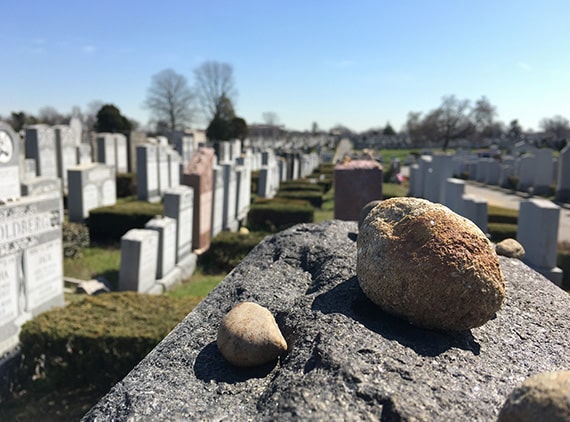 How Can We help
We will guide you through the process of designing a monument to honor your loved one, and we will explain everything along the way. Every memorial is truly personalized; from a simple marker to an elaborate mausoleum. Each is unique and one-of-a-kind. Most notably, we feel that what we do is important.
As a family-owned business for over 100 years, Shastone Memorials has crafted only the finest in Memorial Art. Only the finest granite is selected, covered under the strongest warranty possible. Our craftsmanship has the reputation of being among the finest in the industry. With a Shastone Memorial, memories are truly forever.
Our Work
We service all cemeteries and all faiths throughout the tri-state area.
Client Reviews
Stefany R.
September 15, 2020.
Verified
The process of mourning a family member is difficult but even more overwhelming it can be to cover their services to have them embark their new journey. Shastone memorials was beyond thoughtful and sensitive with the process, not to mention their prices are competitive. I would definitely recommend them to anyone.
Verified
I purchased a foot stone from them for my Mom in 2017, and I can't recommend them highly enough.  Admittedly, I was a royal pain in the behind to try to please - but ultimately they did.
Benjamin L.
May 16, 2020.
Verified
What a relief.   I am out of state in Florida.   The team at Shastone went over and beyond.  I can't thank you all very much for putting the final touches for my grandmas passing.    I've previously contacted other memorial companies, and felt I was getting ripped off,  not here !!!   Thanks again.
Verified
I have had the best customer service with Shastone Memorials.  Purchasing a memorial, even under the best circumstances, is never easy.  Shastone is professional, caring, helpful, thorough and timely.   I live on the west coast and all of our interaction was done through emails and phone calls.  Even though the rest of our family lives in NY, this task was designated to me.  I could not be more pleased with the process and the timeline.  When considering memorials I would highly recommend Shastone.
Verified
My mother's unveiling was four years ago. I wish I could remember the name of the person at Shastone who worked with me. He was wonderful. It had been a particularly bad winter in New York, and other carvers I had called told me they probably would not be able to get the job done in time for an April unveiling because of all the snow and ice that was still on the ground. But then I called Shastone. This wonderful person said he would do his best to get it done in time, and he did. He was a pleasure to work with and I cannot say enough good things about him. It has been weighing on my mind for over four years now that I should write a review for him. I'm glad I finally did it.
Shar B.
February 5, 2015.
Verified
There are just some things in life that absolutely suck so much that mere words cannot convey the true utter magnitude of exactly HOW much they f*cking suck - purchasing a headstone after one's spouse unexpectedly passes away is definitely towards the top of that list.  When my husband's sudden death thrust me in the position of planning a funeral/burial, becoming a single parent, needing to relocate, all whilst surfing the waves of emotions from others & dealing with my own horrible gumbo o' grief, the LAST thing I wanted to do, or could do really, was select & purchase a freakin headstone.  Oh & write an obit.  So I waited a year... A year later I was able to write an "in memoriam" notice for the person I thought I'd spend the rest of my life with.  But I didn't know the 1st thing about buying a monument.  Someone in my then-neighborhood's online parent group recommended Shastone to me.  I called up & spoke to Russell.  Immediately I was struck by his level of compassion & accommodation.  First off, he had the cemetery on file, so within minutes he had the precise size requirements of my husband's particular section.  I made it clear I was clueless, he asked a few basic questions & then started feeding me some easy-to-digest info.  He directed me to their website &, upon hearing I was on my Iphone without a desktop in front of me, took out his phone so he could guide me to the pertinent images directly how they appeared on my phone (since the screen breaks there are different than on a desktop).  As he introduced me to some images & ideas, I started to form some on my own & discussed them with him.  He then sent me a preliminary email outlining some costs & specifics. I was very impressed but of course I wanted to shop around & make sure I made a thorough decision.  Though Shastone's prices are reasonable, this was not a cheap purchase.  Perhaps the level of customer service Russell was providing is industry standard, perhaps I could get what he was offering for cheaper.  I asked around & called a few other recommended companies.  Omg, it was then I realized how special Shastone & Russell were - one such "highly" recommended place was so terrible over the phone - I called & they asked for the cemetery's required measurements.  Since I still really didn't know what the damn numbers on the cemetery sheet meant (width first or height? are these inches??), I just started reading numbers slowly.  The guy cut me off & said "Yeah all our granite costs between blah blah blah & blah blah blah" (actually cost more than Shastone).  It was like ordering a pizza.  A death pizza. I resumed my correspondence with Russell & dare I say it - he made this process as uhhh, pleasant as possible.  Who knew that I would like jet black granite so much?  Who knew the pleasure I would feel when I found just the right carved roses?  He even guided me through the most difficult part for me, which was deciding on the images.  For several personal reasons I won't outline here, this was the trickiest part.  I can't even estimate how many emails transpired between us - me giving him ideas, him sending me photos, examples etc.  Every now & then I would apologize for the back & forth, & he would always be patient & comforting.  He would sometimes offer his opinion but in a way that made it clear, that was only his preference (note, he prefers symmetry while my scrapbooking-style would sometimes pull me towards asymmetry!).  At one point I was at a standstill, he recommended I step away for a weekend.  Eventually, everything clicked into place & it was about as satisfying as something this sad could be. Note, I never had to visit the showroom.  Everything was done by phone & email. Should any of you out there ever be in this position, I would highly recommend Shastone to you.  FYI anytime I called & Russell was out, I was treated with the same courtesy by anyone who answered the phone. Thank you, Russell & Shastone.  The stone is beautiful & perfect.  A fitting tribute to my amazing, beloved husband.
David D.
August 25, 2013.
Verified
We review restaurants, hotels, and entertainment entities, so why not a Monument Company?   My mother selected Shastone for the monument for my father years ago.  When my mom passed on, I had the responsibility to select the monument for her.  I interviewed a few monument companies and the only one that responded with the knowledge and confidence I needed to hear to feel comfortable was Shastone. I was making these arrangements long distance, thousands of miles away, so reliability was key. Shastone worked with me through the selection of special granite as well as multiple revisions of the wording until it was right.  The owner was articulate, proactive, and responded promptly to my phone messages.  He kept me apprised of what was going on in the process via email and US Mail so I never missed anything.   Without me asking, the owner even drove out to the cemetery to make sure that that monument would conform, and he emailed me pictures from the scene because I was far away in California.  I don't think any other monument company would have done that. It's been 2 years since mom's monument was erected, and I waited this long to write the review because it's taken me 2 years since the unveiling to return to Long Island to inspect  the grave-site and monument.  I wanted to see if the Shastone monuments withstood the force of Hurricane Sandy as well as the crippling winter storms over the past 2 years. I feared the worst as I approached the site a few weeks ago, but thankfully, the Shastone monuments still stood.  Even the stones left on top of the monuments remained--that surprised me the most.   Unfortunately , I could not say the same for the soil on mom's grave-site--the severe weather caused a 12-inch wide sinkhole to form on the site with tunnel erosion down into the site.  I reported this to the cemetery office and they immediately repaired the hole and poured additional top soil for support.  Let's hope that holds.
Accessories
Send Us A Message